PERENNIAL STREAM a blog for God
Welcome to Perennial Stream...
The Blog Home and on-line Personal Journal of Jubal Johnson
A Blog for God, a blog for thee and a blog from me.
Here we have a place in space to share thoughts, history, dreams, illusions and petty gripes even!
Also some photos, some art, some philosophy and hopefully some fun too.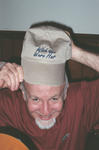 I AM AN ARTIST...GOD HELP ME!
Not just a painter or sculpter but the whole 9 yards...
I do it all, art, music, poetry, prose, photography, dance and I've even worked in film!
In the days ahead I will be sharing more about myself and of course things related to the arts and how they play out in my life. Added to all that I will also be talking about my relationship with God and with the people I've known. It may not be a magic carpet ride or a shuttle ride to the stars but it will I hope at least prove to be interesting.
Check back in the days ahead to keep up, with what's up, with me...
Jubal by the way is a biblical name that means; JOYFUL SOUND and or PERENNIAL RIVER, hence the title of this here blog/homepage.
For now I'll leave you with a short poem that expresses one of my pet peeves...the Greek word, CHRISTIAN.
+++HOUSEHOLD+++
I REJECT
IN BOTH MIND AND SPIRIT
WHAT THE GREEKS NAMED US
THAT REDUCES US
TO MERE SCIENCE
VOCATION
PROFESSION....
...CHRIST-I-A-N
I'LL TAKE THE CHRIST
BUT WHO THE HELL IS IAN?
THIS MINDSET
DIVORCES US
FROM ONE ANOTHER
WHO WE TRULY ARE
AS BROTHERS
AS ORGANIC HUMANS
AS FAMILY
WE ARE NOT A BUSINESS
WE ARE NOT A PRACTICE
WE ARE NOT A FOCUS
A CLINIC OF PATHOS
AND ACTIVITY
WE ARE NOT A STUDY HALL
WE ARE A HOUSEHOLD
WITH ONE HEAD
OF THE HOUSE
ONE FATHER
ONE SAVIOR
MANY SIBLINGS
STRETCHING OVER AEONS
FAR REACHING OVER
BOTH TIME AND NATIONS
AND WHEN ALL OTHER
RELIGIONS
NATIONS
PRACTICES
VIEWS AND LIFESTYLES
HAVE LONG BEEN SWEPT AWAY
LOST TO FIRES
OF JUDGEMENT
ABANDONED IN THE TRASH BIN
OF THE DISTANT PAST
WE SHALL BE THEN
AND EVER WILL REMAIN
THE OFFSPRING OF HEAVEN
THE FOREVER FAMILY
DANCING
SINGING
LOVING
LIVING
FREE, IN ECSTACY
AROUND THAT CELESTIAL
ETERNAL THRONE...
OUR HAPPY HEARTH
OUR ETERNAL HOME.
GENE JOHNSON
COPYRIGHT 2006